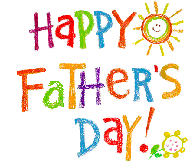 It is Father's Day this weekend. The time to remember the other important person in your life, your father. Here is a better description of the importance pf this day from Wikipedia.
Father's Day (or Fathers' Day) is a day of honoring fatherhood and paternal bonds, as well as the influence of fathers in society. In Catholic countries of Europe, it has been celebrated on March 19 as
Saint Joseph's Day
since the
Middle Ages
. In America, Father's Day was founded by
Sonora Smart Dodd
, and celebrated on the third Sunday of June for the first time in 1910. It is held on various days in many parts of the world all throughout the year, often in the months of March, May, and June.
Find some time this weekend to honor an especially important person in your life.


Especiallyforewe2.com is always looking for new subscribers to help spread the word about English smocking for little boys and little girls. Come join us and get the latest information about what is new, what is coming, and about upcoming craft shows that Especially for Ewe is participating in.
Until next Friday here is where you can find Especially for Ewe:
Especiallyforewe2.com
Twitter- especiallyforewe
Tumblr -EspeciallyForEwe
Pinterest - especiallyforewe